We organize our teams and trainings in two weekly sessions with different purposes. These trainings (TEAM and TRIM) are the core of the activities at Mesaicos. TRIM hockey is focused on participation and fun and open for first timers and the most advanced players. In TEAM hockey sessions we train both skill and stamina through exercises.
Our trainings
TRIM
TRIM sessions are recreational / social sessions where we play hockey for fun and try new things. These sessions are ideal for new players that want to test out the game and for those who want to focus on having fun after work. We are especially friendly and careful to make sure that all players can learn and play independently of their skill level. Moreover, at TRIM we play with mixed teams where men and women do sports together.
Occasionally we also do an (optional) fitness training before TRIM which includes hill running and various other exercises. You can learn more about the concept of TRIM hockey and where its name comes from here and here.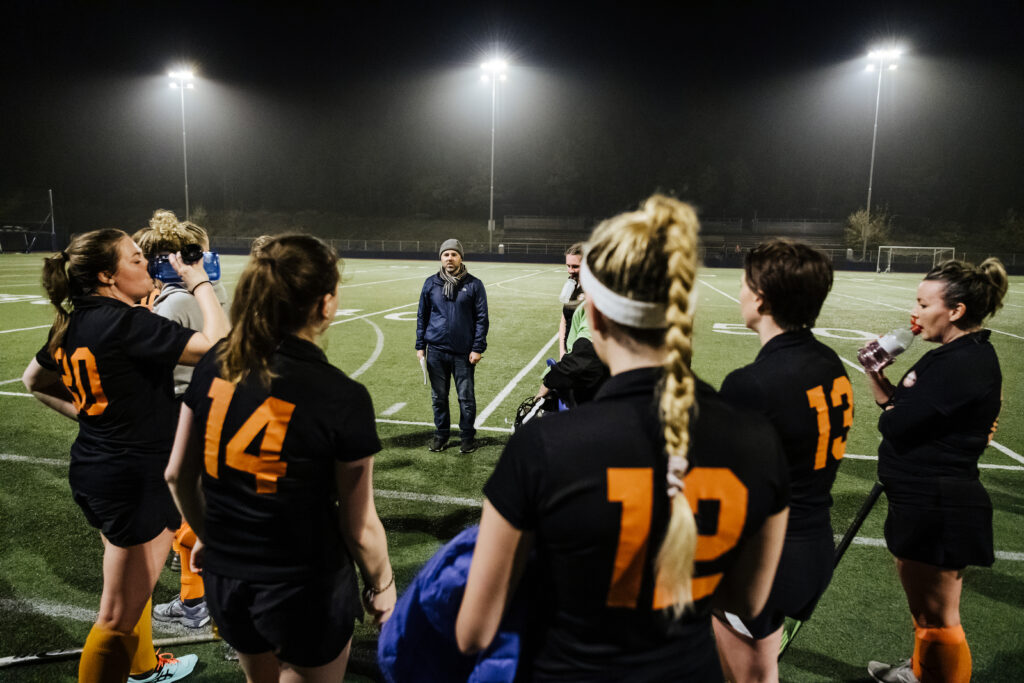 TEAM
The TEAM training is the session for our ladies and men's team, which both participate in the national Swedish hockey league.
Both teams practice at the same time and prepare all the skills you need to play hockey on a competitive level. On most regular trainings we end the sessions with a small 11 a side game where the ladies team faces the men's team. We often play with goalies.

An integral part of all of our trainings is the refreshment at the local pub Lilla Garbo, where we go after almost every session. We also organize social events in the weekends or on Friday nights.
Our Teams
At Mesaicos we have two teams: the mens' team and the ladies team. Both teams have a core of veterans who have had considerable success in the Swedish hockey scene.
The biggest success of the ladies team was winning the Swedish championships in 2018 and qualifying for the Euro Hockey Club Challenge 2020, which unfortunately was canceled due to the travel restrictions. The ladies also managed to reach second places in the indoor competition: this was done in a cooperation with another hockey club from Åkersberga.

The men's team is a permanent member in the Swedish hockey league, where some second places are the best results we achieved so far. The greatest success for the Men's team is the win of the Swedish Hockey 5 competition in the year 2019.
Any questions?
You are welcome to show up at any of our TRIM or TEAM trainings to ask for more information or play (we have spare equipment for new players). We allow new players to try 2 sessions for free before enrolling into the club. Afterwards, they will still be able to rely on club equipment for a while and rent one of the club's hockey stick if they do not wish to purchase it.
If you want to find out more about our teams and trainings, click here to Contact Us.
If you want to enroll in one of our teams instead, click here to Become a Member.